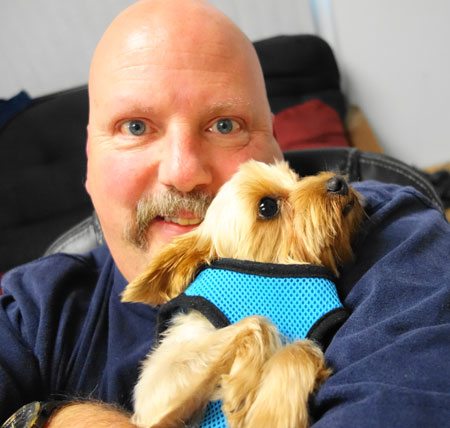 ABOUT: Who is "The Dog Guy?"
Stephen B. Phillips
K-9 Trainer / Consultant

Stephen B. Phillips - K-9 Trainer ...With over 30 years experience
- Has Previously been Drug Enforcement Administration (DEA) certified and NY State Bureau of Controlled Substances(Department of Health) licensed.
- Is licensed by the Bureau of Alcohol, Tobacco, and Firearms and NY State to own and posses High Explosives.
- Authored "Scent Mixing" Detection Dog Training Manual.

"Paladin 9-11 Dogs"
"
Dog World Article
"
Accomplishments
Stephen B. Phillips, has previously been Licensed by New York State Bureau of Controlled Substances , and previously been issued a DEA Certificate by The United States Department of Justice, Drug Enforcement Administration and is an AWDA Certified Master Trainer in Narcotics and Explosives Detection. He is also Licensed by The Bureau of Alcohol, Tobacco, and Firearms and The New York State Department of Labor to Own and Posses High Explosives. He also is the author of "Training A Narcotics Detection Dog Using "Scent Mixing", The Complete Guide To Training A Narcotics Detection Dog .
Stephen B. Phillips was the first New York State Coordinator for The Eastern States Working Dog Association. In this position he brought in many new members, conducted several Seminars and Certifications, as well as being an unpaid volunteer Featured Instructor and Certifying representitive at many Eastern States Working Dog Association sponsored events.
Stephen also started The Multi-Juridictional Working Dog Task Force, based in Olean, New York. This is a group of Law Enforcement and Private K-9 handlers who provide Trained K-9s to help in searches preformed by Law Enforcement and Search and Rescue groups. Weekly training sessions are available at no charge for any Handler and K-9 who participage in this group. Stephen has been the Training Director and also a sworn K-9 Officer for the Village of Portville (NY) Police Department
Steve is a recognized expert on dog training, and offers Certifications for both Law Enforcement and civilian K-9 teams through individual tests to accepted National standards. He also has been a tester observer for Therapy Dogs Inc., Certifying Therapy Dogs and handlers. Mr. Phillips is a past Ap. Tester for The American Temperament Testing Society, a past member of the Board of Directors of The Olean Kennel Club and a past board member and Personnel Director of The SPCA In Cattaraugus County. He is active in the instruction of many shelter and rescue groups in dog handling and evaluations. Steve also holds Peace Officer status certified through the Bureau of Municipal Police in New York.
Steve has written and published articles on dog training and dog related issues for many local, as well as national publications. Also, Mr. Phillips has appeared several times on local television shows to talk about dogs and training and has hosted a cable TV show on the Adelphia Cable Network. He has been a correspondent for Dog Sports Magazine in the Police Canine and Narcotic Detection Dog sections doing both interviews and articles on Narcotic Detection training. He also trains Shelter Personnel, Rescue Groups, as well as vets and groomers in the proper handling and "reading" of dogs. He has been a part-time Animal Cruelty Investigator for the SPCA Serving Allegany County (NY), and is currently the Senior Cruelty Investigator for The SPCA IN Cattaraugus County (NY).
Steve is the Training Director for several Law Enforcement Agencies in New York and Pennsylvania. As Training Director, he is responsible to help set up maintenance training schedules, paperwork, and K-9/Handler evaluations. Steve worked with New York State Assemblywoman Cathy Young's office on revising 5 sections of New York State Law to recognize Detection Dogs (both Law Enforcement and Private) as working dogs afforded the same privileges as Blind Guide Dogs, Hearing Ear Dogs, Service Dogs, War Dogs, and Police Work Dogs. In helping to write Assembly Bill A11289, which was passed by the Assembly and the Senate with unanimous approval and signed into Law by the Governor, these dogs and handlers are all protected from discrimination in public places, transportation and motels in New York State and now receive a letter of identification and a special brass tag to identify them as Working Dogs once their application has been approved by The New York State Agriculture and Market Department.
Phillips Command Dogs uses a combination of inducive and compulsive training, custom tailored to your dog. We can find the right dog for you and deliver it green, partially or fully trained in any breed and any type of training you may require. We can also train your dog if that is what you need. We also do seminars and consultation in all phases of the training.
Stephen B. Phillips - K-9 Trainer
Over 30 years experience
- Has been Drug Enforcement Administration (DEA) certified, NY State licensed.
- Has been licensed by the Bureau of Alcohol, Tobacco, and Firearms.