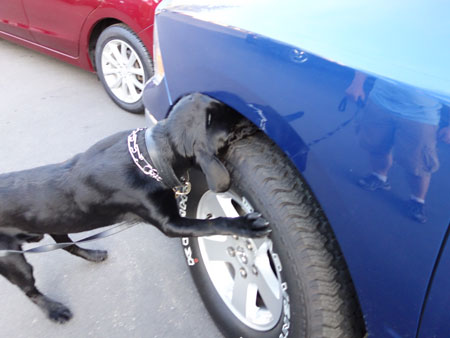 Canine Detection - Narcotics / Explosives
Need a specialized detection dog for your industry? (Gas detection, etc)

Call us to discuss Explosives and Drug Detection Dogs & Training

Our normal Drug Detection dog will indicate on marijuana, cocaine, heroin, methamphetamine and MDMA.

We work with both Police and Civilian handlers and will train either an aggressive or passive alert.

We also specialize in Private Detection Dogs and can train your dog to detect firearms and powders (black/flash/smokeless) for searches in schools and industry.

We can also supply you with Cadaver and Accelerant Dogs.

We will train your dog if he/she tests out, or we will locate the dog that suits your needs.

For more info and prices, call or E-Mail.

WHAT DO THE AIRPORTS DEPEND ON WHEN THE ALARMS GO OFF ON THE MILLION DOLLAR MACHINES?