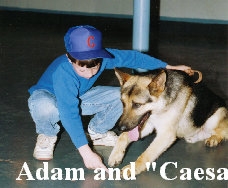 Obedience
We can train your own dog for Basic and Advanced Obedience, or we locate a dog that suits your needs and train it for you!

There's no need to yell at your dog for the rest of its life, or put up with unwanted behaviors. We will train the dog first, then work with you and your family so you can learn how to make the dog obey you. As you can see, if the correct training methods are employed, obedience can be "child's play"!

"A bad dog needs training, a good dog deserves it" 
Call or E-Mail to discuss Obedience Training or a fully trained dog.
Click to view the "The Dancing Dog"